Participation in cross country skiing and snowshoeing is expected to increase significantly this winter for the second season in a row. Since late March, when the COVID-19 pandemic sent many Americans home, participation in many outdoor activities has spiked including hiking, cycling and paddling. Trailheads across the country were full, many on trails were there for the first time looking for activities that offered safe, socially distanced activity outside of the home and away from the gym. Some areas reported more than double the usual traffic on local trails.
The numbers that we're seeing are greatly higher than we've ever seen before," she says. "We're seeing it across all of the forest, in our places where we've kind of labeled them as quieter places. They're at capacity and spilling out as well.
As the weather turns colder sending many indoors and driving up COVID-19 infection rates, Americans will again look for ways to get outdoors and participate in healthy and physically distanced activities. In addition to offering a refuge from COVID, cross country skiing and snowshoeing are some of the most accessible and economical activities available.
 Participation
Last season, despite the abrupt end of skiing at downhill resorts in March, cross country skiing and snowshoeing saw participation grow. More than 5.2M Americans participated in cross country skiing, a 6% increase over 2018/2019. Snowshoe participation grew more than 12% last season to 3.6M participants.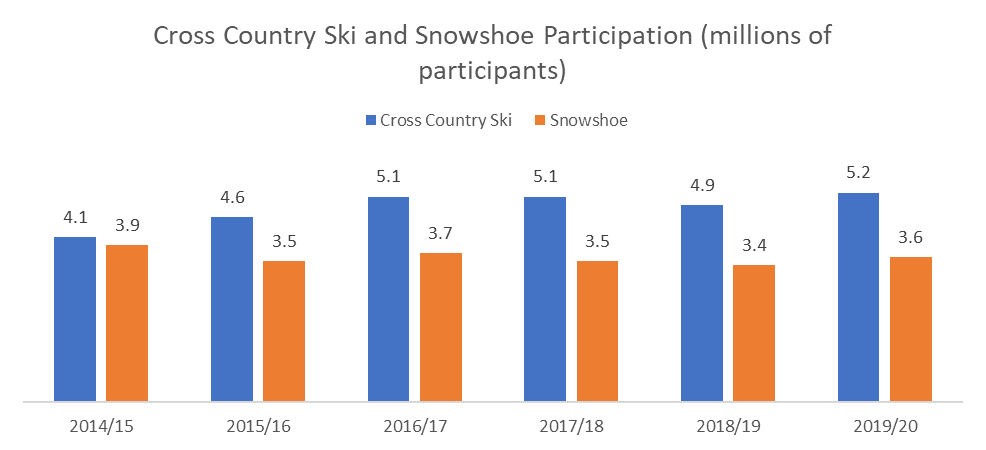 Cross country skiing and snowshoeing are far more accessible than downhill skiing for most participants. Skiers and snowshoers participate at many different locations including cross country ski areas that offer miles of groomed trails, groomed municipal properties, golf courses, parks, frozen lakes, and even on snow covered roads and sidewalks in their neighborhoods. In fact, many participants can find trails within a few miles of their home.
According to an SIA study on barriers to participation, downhill skiers typically need to travel at least 45 minutes to get to the nearest lift-served resort and they can expect to pay about $100 for a weekend lift ticket. By comparison, cross country skiing trail day passes average $15 and season passes range from $25 for the Great Minnesota Pass to $212 at the Trapp Family Lodge located in Stowe, VT, to $280 at Devil's Thumb Ranch in Frasier, CO. Once on the skis, remaining physically distanced from others on trails that frequently are 12-18 feet wide is a non-issue.
Retail
In speaking with retailers across North America many are saying early sales, those in August and September of cross country gear are up as much as 300%.  Several retailers are saying the gear being sold is entry level packages indicating beginner skiers are thinking very far out about the coming winter and what activities they will be doing.
 I've already increased all my orders exponentially — quite a bit for cross-country skiing.  It's going crazy now. I've never had the (ski) wall up so early. I've never had so much interest. We've never sold so many packages this early in the season. It's pretty incredible.
The 2020/2021 season projections are positive. Increased participation will drive hard goods sales that typically total about $40M according to NPD. Participants will also need winter apparel but most who participate in other outdoor activities won't need to spend thousands on a new kit. Cross country skiing doesn't require a helmet, or goggles and not everyone chooses to deck themselves out in spandex (although wicking fabric is helpful). 
The Experience
Cross country skiing and snowshoeing are fun to learn, healthy, family friendly, accessible, affordable, and offer great variety. Participants can hike their favorite trails on snowshoes, find amazing winter scenery on groomed cross country ski trails, or wait for snow to fall in their neighborhoods and ski around town. Cross country skiing uses natural movements – it doesn't require special skills to get started and has a short learning curve. Snowshoeing may be more difficult than walking but most people can start snowshoeing within minutes of strapping on their snowshoes. As an added bonus, many areas that cater to cross country skiers and snowshoers offer fine food and craft beverages.
An important factor likely to drive increased participation on trails this winter is the obvious social distancing advantage these activities have over lift-served downhill skiing. The two largest alpine resort operators have announced that there will be capacity limitations at their resorts and season passholders will have priority. Casual skiers, those that only ski a few times each season, may find themselves blocked out of weekend skiing at lift served resorts. Social distancing is far easier when skiers and snowshoers have miles of trails to explore away from crowds.
The financial bottom line on cross country skiing and snowshoeing tends to be small making these winter activities an excellent option for anyone that wants to experience a true winter wonderland.
Weather
Finally, weather is always a factor in winter sports, and cross country skiing and snowshoeing depend on snowfall and the forecast is promising. This season, La Niña conditions are projected, the northern states and Canada will be colder and wetter than normal.  According to the National Oceanic and Atmospheric Administration, "La Niña favors increased snowfall over the Northwest and northern Rockies, as well as in the upper Midwest Great Lakes region. Reduced snowfall is observed over parts of the central-southern Plains, Southwest, and mid-Atlantic." Many downhill ski resorts have snowmaking equipment that can compensate for natural snow, but fewer than 20% of cross country trail systems have snowmaking capability. This season's weather looks promising for most cross country ski areas.